Je suis une grande adepte des contemporains, c'est sans doute un de mes genres littéraires favoris. Quoi de mieux qu'un bon contemporain tout mignon et acidulé pour se remonter le moral ?
I really like contemporaries books, it's one of my favorites type of books. What's better than these books to get better when everything's goes wrong ?
1 ) Anna and the French Kiss, Stéphanie Perkins



J'ai lu ce livre en anglais, c'était la première fois que je lisais un roman en anglais. C'est vraiment parfait pour commencer la lecture en VO, l'écriture de Stéphanie Perkins est très fluide et facile à comprendre. J'ai adoré cette histoire adorable, on s'attache très vite aux personnages ! Une très bonne lecture sans prise de tête !

Anna and the french kiss existe également en français aux éditions De la martinière jeunesse :)
I read this book in original version, it has been the first time I read an english book.
This novel is very perfect, for a French , to learn how to read in English. The written of Stephanie Perkins is very smooth and easy to understand. I loved this story, we get very quickly strong links with the character. Very good reading
.
2) Since you've been gone, Morgan Matson (VO : édition Simon & Schuster)
Un roman parfait pour les beaux jours d'été, une histoire très intrigante, sur la disparition soudaine d'une jeune fille laissant une liste de chose à faire à sa meilleure amie ! J'ai adoré ! Malheureusement ce livre n'est pas disponible en langue française...
A perfect novel for the sunny day of summer. A very strangeful story, about the sudden disappear of a young girl. The only thing we know is that this missing girl had let a list with different thing to do, and the girl who is going to do this is her best friend. Loved it, the only bad point is that this book only exist in English, no French version for the moment.
3) Maybe Someday, Colleen Hoover (édition Hugo roman)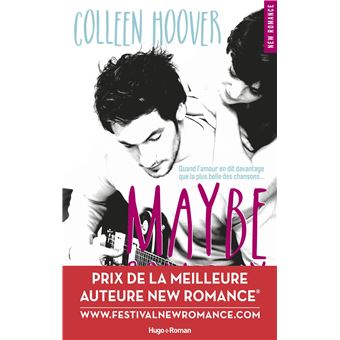 Une lecture détente, une belle romance ! Rien à redire, les romans de Colleen Hoover sont toujours une réussite ! Dès que je souhaite lire un contemporain léger et pour lequel je suis certaine d'adhérer, je me tourne toujours vers cette auteure :)
A very peace reading, and beautiful romance. Nothing more to say, novels by Collen Hoover always are success.
All the time I want to read a light contemporary, I turn to this author, because I'm pretty sure to love the book.
4) Aristote et Dante découvrent les secrets de l'univers, Benjamin Alire Saenz (édition PKJ)
Ce livre est une pépite, un petit bijou... ! Que dire ? Ce roman est très beau et surtout très juste. Une belle histoire entre deux jeunes garçons, émouvante et très forte. La couverture du livre est très bien travaillée et soignée. A lire absolument !
This book is a jewel. What can I say ? Just beautiful, and very sharp to the reality of life. A very beautiful story between two boys, stirring and strong. Covert of the book is a good work and carefully made. You must read it !