Titre : The Winner's curse
Aueur : Marie Rutkoski
Edition : Square Fish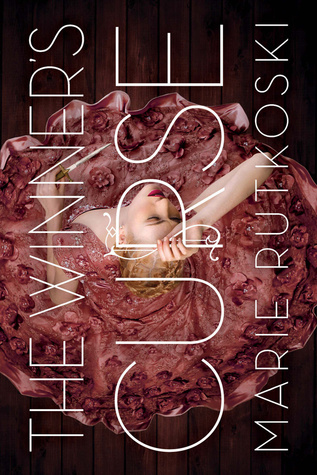 Résumé :
Etant la fille d'un général d'un empire énorme qui se délecte de la guerre et asservit ceux qu'il conquiert, Kestrel, dix-sept ans a deux choix : elle peut rejoindre l'armée ou se marier. Mais Kestrel a d'autres intentions.
Un jour, elle voit un jeune esclave lors d'une vente aux enchères. Les yeux d'Arin semblent défier tout et tout le monde. Aves son instinct, Kestrel l'achète - avec des conséquences inattendues. Peu de temps après, elle doit cacher son amour croissant pour Arin.
Mais il a lui aussi un secret. Kestrel découvre rapidement que le prix qu'elle a payé pour un homme servant est beaucoup plus important qu'elle ne pourrait l'imaginer.
Mon avis :
J'ai découvert l'existence de ce livre à travers le site Goodreads, que j'adore. En effet, il permet de découvrir grands nombres d'idées de lecture. Je lis beaucoup de livres appartenant au genre fantastique/fantasy, et c'est en fouinant dans mes recommandations sur ce site que j'ai pu en apprendre plus sur "the
Winner's curse". Malheureusement, il n'existe pas en français.
Tout d'abord, j'ai adoré le monde imaginé par l'auteure,
les personnages entretiennent des relations complexes, l'univers est régit par la relation esclave - valorians. Les valorians sont des personnes riches,
les esclaves quant à eux sont devenus ce qu'ils sont
suite à une sorte de colonisation érigée par la communauté des Valorians. Le personnage principal, Kestrel est la fille du général, en effet,la société est militarisée. Tout est très bien ficelé. Kestrel a des avis bien tranchés sur ce qu'elle vit, sur le monde qui l'entoure, elle est réfléchie et critique, c'est en cela que j'affectionne particulièrement ce personnage. Elle achète au début du roman un esclave Arin et va développer une relation complexe avec celui ci.
Ce livre est vraiment intéressant, il n'y a aucune lenteur, je ne peux que vous le conseiller !
Ma note : 5/5
Summary :
Goodreads.
As a general's daughter in a vast empire that revels in war and enslaves those it conquers, seventeen-year-old Kestrel has two choices: she can join the military or get married. But Kestrel has other intentions.
One day, she is startled to find a kindred spirit in a young slave up for auction. Arin's eyes seem to defy everything and everyone. Following her instinct, Kestrel buys him—with unexpected consequences. It's not long before she has to hide her growing love for Arin.
But he, too, has a secret, and Kestrel quickly learns that the price she paid for a fellow human is much higher than she ever could have imagined.
My opinion :
I discovered the existence of this book through the site Goodreads, which I adore. Indeed, he allows to discover large numbers of ideas of reading. I read many books belonging to the fantasy genre, and while looking in my recommendations on this site that I was able to learn it more on it " Of curse Winner ". Unfortunately, it does not exist in French.
First of all, I adored the world imagined by the author, the characters maintain complex relations between them, the universe is governs by the relation slave - valorians. Valorians is people rich. The slaves became slaves further to a kind of colonization set up by the community of Valorians. The central figure, Kestrel is the girl of the general, indeed, the society is militarized.
Kestrel has opinions on what she lives, on the world which surrounds her, she is reflected and critical. I like particularly this character. She buys at the beginning of the novel a slave Arin and is going to develop a complex relation with him.
This book is really interesting, there is no slowness, I can only recommend
it to you!
My rate : 5/5