J'attend avec impatience plusieurs livres pour la fin de cette année, certains sont en VO d'autres en français. Mais j'ai tendance à lire plus souvent en anglais, car certains livres n'existent pas en français ou ne sont pas encore sortis. Je ferai ce genre d'articles assez souvent, puisque j'attend beaucoup de livres.
I looks forward to several books for the end of this year, some are in the original version others in French. But I tend to read more often in English, because certain books do not exist in French or did not go out yet. I shall make this kind of articles rather often, because I waits for many books.
Titre : Tous nos jours parfaits
Auteur : Jennifer Niven
Edition : Gallimard Jeunesse
Sortie :15/09/2015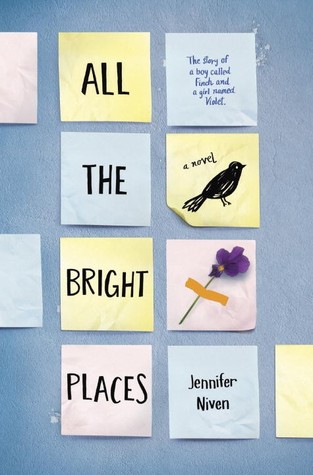 couverture VO / English cover.
Ce livre existe déjà en version originale, en anglais, mais je me suis promise de lire plus souvent en VF, c'est donc ce que je vais faire avec ce roman.
This book already exists in original version, in English, but I meant to read more often in French version, it is what I am going to make with this novel.
Résumé :
Le résumé vient du site Goodreads.
Theodore Finch veut en finir avec la vie.
Violet Markey est dévastée par la mort de sa soeur.
Ils se sont rencontrés sur les toits du lycée au bord du vide, et c'est ainsi que leur histoire a commencé. Ce n'est qu'ensemble qu'ils arrivent à être eux-mêmes...
Tandis que le monde de Violet s'épanouit, celui de Finch ne fait que rétrécir. La magie de leurs jours parfaits pourra-t-elle les sauver?
Summary :
Goodreads
.
Theodore Finch
is fascinated by death, and he constantly thinks of ways he might kill himself. But each time, something good, no matter how small, stops him.
Violet Markey
lives for the future, counting the days until graduation, when she can escape her Indiana town and her aching grief in the wake of her sister's recent death.
When Finch and Violet meet on the ledge of the bell tower at school, it's unclear who saves whom. And when they pair up on a project to discover the "natural wonders" of their state, both Finch and Violet make more important discoveries: It's only with Violet that Finch can be himself—a weird, funny, live-out-loud guy who's not such a freak after all. And it's only with Finch that Violet can forget to count away the days and start living them. But as Violet's world grows, Finch's begins to shrink.
J'adore les contemporains, l'histoire semble intense et belle, j'ai hâte de découvrir ce roman de Jennifer Niven !
I adore the contemporaries, the history seems intense and beautiful, I look forward to discovering this Jennifer Niven's novel!
Titre : November nine
Auteur : Colleen Hoover
Edition : Atria books
Sortie : 10 novembre 2015
Résumé :
Traduction faite par mes soins.
C'est une histoire d'amour entre fille et un garçon.
Je pense.
Est ce que l'on peut considérer cela comme une histoire d'amour si cela ne se finit pas avec de l'amour ?
Les mystères finissent quand le mystère est résolu.




Les biographies finissent quand on a raconté l'histoire de vie.




Les histoires d'amour devraient finir avec l'amour, n'est-ce pas ?




Peut-être que j'ai tort. Peut-être cela n'est pas une histoire d'amour. Si vous demandez... on pourrait même considérer cela comme une tragédie.


Peut importe ce que c'est, comment ça se termine, je vous promets que je vous raconterai.
Une fois j'ai raconté une fille... LA fille.
Summary

:
come from Goodreads.
This is a love story between a guy (me) and a girl (Fallon).
I think.
Can it even be considered a love story if it doesn't end with love?
Mysteries end when the mystery is solved.
Biographies end when the life story has been told.
Love stories should end with love, right?
Maybe I'm wrong, then. Maybe this isn't a love story. If you ask me…I'd say this might even be considered a tragedy.
Whatever it is—however it ends—I promised I would tell it. So without further ado.

Once upon a time…I met a girl.
THE girl.
J'adore Colleen Hoover, ses histoires sont toujours une réussite !
I love Colleen Hoover, her stories are always a success !
Titre : Everything,Everything
Auteur : Nicola Yoon
Edition : Delacorte Books
Sortie : 1 septembre 2015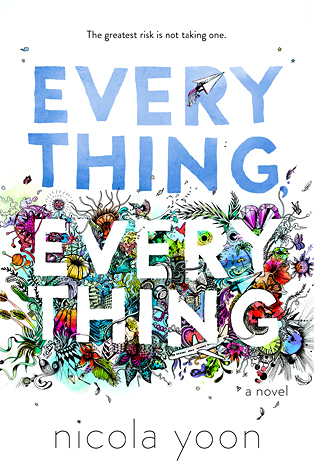 Résumé :
Traduction réalisée par mes soins.
Ma maladie est aussi rare que célèbre. Essentiellement, je suis allergique au monde. Je ne quitte pas ma maison, ne l'ai pas quitté depuis 17 ans. Les seuls personnes que je vois sont ma maman et mon infirmière, Carla. Un jour, un camion arrive à côté de chez moi. Je regarde à travers ma fenêtre et je le vois. Il est grand, maigre et porte un T-shirt noir, un jean noir, des chaussures de tennis noires et une casquette qui couvre ses cheveux complètement. Il me regarde fixement. Son nom est Olly. Peut-être que nous ne pouvons pas prévoir l'avenir, mais nous pouvons prévoir quelques choses. Par exemple, je vais certainement tomber amoureux d'Olly. Et cela va certainement être un désastre.
Summary :
Goodreads.
My disease is as rare as it is famous. Basically, I'm allergic to the world. I don't leave my house, have not left my house in seventeen years. The only people I ever see are my mom and my nurse, Carla.
But then one day, a moving truck arrives next door. I look out my window, and I see him. He's tall, lean and wearing all black—black T-shirt, black jeans, black sneakers, and a black knit cap that covers his hair completely. He catches me looking and stares at me. I stare right back. His name is Olly.
Maybe we can't predict the future, but we can predict some things. For example, I am certainly going to fall in love with Olly. It's almost certainly going to be a disaster.
Ce livre m'intrigue ! L'histoire me semble originale, et j'ai hâte de rencontrer les personnages !
This book intrigues me! The story seems to me original, and I look forward to meeting the characters!
Titre : Onyx
Auteur : Jennifer L. Armentrout
Edition : J'ai lu
Sortie :
26 Aout 2015
Résumé

:
Goodreads.
ÊTRE CONNECTÉE À DAEMON BLACK, ÇA CRAINT...
À cause de ses pouvoirs d'alien, Daemon est déterminé à prouver que, ce qu'il ressent pour moi, est bien plus que le résultat de cette étrange connexion. Je me suis donc juré de l'arrêter... même si il souffle plutôt le chaud que le froid ces jours-ci. Mais, nous avons des problèmes plus importants.
QUELQUE CHOSE DE PIRE QUE LES ARUMS EST ARRIVÉ EN VILLE
Le Ministère de la Défense est arrivé. Et si, par malheur, ils découvrent les capacités de Daemon ou, s'ils découvrent que nous sommes liés, je suis fichue. Et lui aussi. [...]
Summary :



Goodreads

.
Being connected to Daemon Black sucks…
Thanks to his alien mojo, Daemon's determined to prove what he feels for me is more than a product of our bizarro connection. So I've sworn him off, even though he's running more hot than cold these days. But we've got bigger problems.
Something worse than the Arum has come to town…
The Department of Defense are here. If they ever find out what Daemon can do and that we're linked, I'm a goner. So is he. [...]
J'ai lu le premier tome de la série Obsidienne, et j'ai vraiment apprécié ! Ce n'est pas de la grande littérature, mais j'ai dévoré le livre en une soirée, les personnes sont vraiment attachants, et Daemon Black... WOW...
J'ai juste envie de connaitre la suite des événements, ce qu'il va arriver à nos personnages et comment l'intrigue va évoluer.
I read the first volume of the series Obsidian, and I really appreciated! It is not the big literature, but I devoured the book in an evening, the people are really charming, and Daemon Black... WOW...
I just want to know the continuation of the events, what is going to arrive at our characters and how the intrigue is going to evolve.
Et vous, quelles sont les sorties que vous attendez ?
And you, what is your most anticipated releases ?